Meet The Swag Staff: Emilie Rose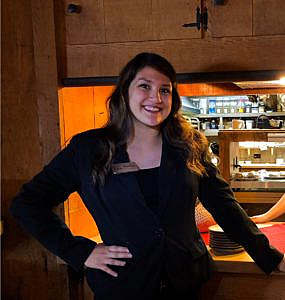 We are pleased to introduce Emilie Rose. Emilie is our Assistant Dining Room Manager and a key part of our Dining Services Team at our award-winning mountaintop hideaway.
Emilie grew up in North Carolina and graduated from Tuscola High School in Waynesville.  She has three other sisters, DeeAnn, Susan and Sophia. Emilie was a cheerleader through middle school and high school and even performed in the halftime show at the 2010 Capital One Bowl in Orlando.
Prior to joining The Swag, Emilie worked at a retail UPS store in Clyde, North Carolina before leaving to become a stay-at-home mother to her son, Easton Richmond Fowler.  Easton's father, Austin, was Emilie's high school sweetheart and a former Team Member at The Swag.  While Emilie "enjoyed being there for all of his first-cute-baby-moments," we are blessed that she is now with us at The Swag, and we even get to have the occasional Easton sighting at 5,000 feet!
Come visit Emilie at The Swag.  She will serve you a delicious meal at 5,000 feet. Swag guests receive three delicious meals per day, as well as hors d'oeuvres and afternoon "high tea" daily.  We do accept outside guests for Sunday Brunch, lunches, and dinners.  Book a room online here, or call Guest Services to make a dining reservation at 828-926-0430.
-David Colquitt