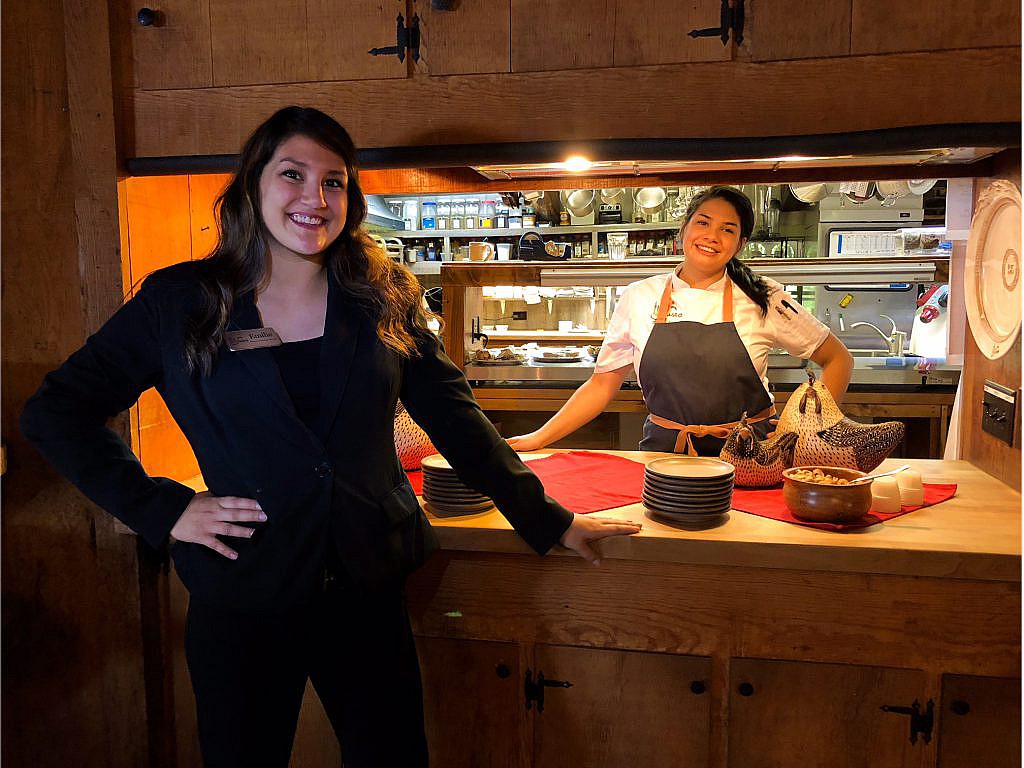 Meet The Swag Staff is back with Episode 13, and we are pleased to introduce "The Swag Sisters": Emilie and DeeAnn Rose.  DeeAnn (whose full name is Ardelia for her great grandmother) is our wonderful Sous Chef who is in her second full season at The Swag.  Emilie is a key part of our Dining Services Team and, after spending half of last season at The Swag, is in her first full season at our award-winning mountaintop hideaway.
The Rose sisters grew up in North Carolina and graduated from Tuscola High School in Waynesville.  They have two other sisters, Susan and Sophia.  When she was in school, DeeAnn was in the color guard and played the tenor saxophone.  (Unfortunately she does not play anymore, but if any Swag guests bring their tenor saxophone, we will try to convince her to play!)  Emilie was a cheerleader through middle school and high school and even performed in the halftime show at the 2010 Capital One Bowl in Orlando.
DeeAnn and Emilie Q&A
What is your favorite thing about working at The Swag?
DeeAnn: Being able to go to the garden and pick fresh produce and herbs for whatever I am making that day, as well as being able to write a different menu every day. Most importantly, I enjoy working alongside Chef Jake Schmidt.

Emilie: The beautiful views, which never get old, my wonderful coworkers, and the out-of-this-world food! Chef Jake and Sous Chef DeeAnn have taught me so much about foods that I didn't even know existed. I also enjoy learning what wines to pair with their amazing dishes!


What is your favorite room or place at The Swag?
Emilie: The Swag House is my favorite place. It is where I spend my time enjoying the view from the dogtrot, the smiling faces from guests enjoying their stay, and the amazing smells from the kitchen!

DeeAnn: The kitchen! It is practically my second home. My second favorite place is definitely the garden, and - more specifically - the pumpkin patch!
What do you like to do in your free time?
DeeAnn: Relaxing on my front porch (right down the mountain from The Swag) and playing cards and drinking wine with friends. My boyfriend, Reel, is the head distiller at Elevated Mountain Distillery in Maggie Valley, and we like to visit different craft breweries and concerts in Asheville.

Emilie: I enjoy spending time with my family: Austin Fowler is my better half, my son, Easton, and my 13-year-old dog, Jelly Bean! We love going to the park, taking trips to Wolf Lake, and having movie nights with lots of snacks! I love to cook for my boys and we love to visit "Grammy" (my mother) at least once a week.
If you could travel anywhere in the world (excluding The Swag), where would you go?
Emilie: Honestly, I would go anywhere! I love seeing new things because I do not get out of town much. I would love to visit New York and snowboard in Colorado. Going out of the country would be neat, and if I had to choose, I would go to Amsterdam because it looks like a beautiful place to visit!

DeeAnn: I love to travel, so honestly, anywhere and everywhere! I do have a list of places where I would love to go eat or potentially work someday. I would love to go to Alinea in Chicago, Manressa in Los Gatos, California, and Pujol in Mexico City. I'd love to eat desserts by Dominique Ansel in New York City.
Prior to joining The Swag, Emilie worked at a retail UPS store in Clyde, North Carolina before leaving to become a stay-at-home mother to her son, Easton Richmond Fowler.  Easton's father, Austin, was Emilie's high school sweetheart and a former Team Member at The Swag.  While Emilie "enjoyed being there for all of his first-cute-baby-moments," we are blessed that she is now with us at The Swag, and we even get to have the occasional Easton sighting at 5,000 feet!
DeeAnn who loves spending time with Easton and her niece, Kooper, worked as the kitchen manager at The Classic Wineseller in downtown Waynesville.  DeeAnn loves wine and dreams of being a sommelier…but we are hoping to convince her to never leave The Swag!  (Her favorite wines are Spanish rioja, vinho verde from Pottugal, and Oregon pinot noir.)
Come visit DeeAnn and Emilie at The Swag.  They will cook–and serve–you a delicious meal at 5,000 feet. Swag guests receive three delicious meals per day, as well as hors d'oeuvres and afternoon "high tea" daily.  We do accept outside guests for Sunday Brunch, lunches, and dinners.  Book a room online here, or call Guest Services to make a dining reservation at 828-926-0430.
-David Colquitt