Scott Dean shares Southern Appalachia
We are excited to welcome Scott Dean as an Expert-in-Residence at The Swag. Scott will lead hikes and share his knowledge of the flora and fauna encountered on the trail. In the evenings he'll lead presentations sharing the biodiversity, climate, mammals and more of the Great Smoky Mountains National Park, as well as share some of his photography while enjoying nature in all of our seasons.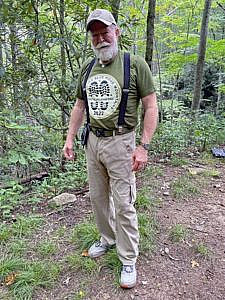 Scott grew up in the coal fields of southwest VA, and southern WV in the Allegheny Provence of the southern Appalachians. As a child he loved nothing more than spending time with his Grandmother from whom he learned the uses of the plants both for medicine and food, and the folk tales regarding the origins of common names, stories from the Cherokee and Shawnee nations about the plants and animals. These stories are among his favorite things to share with people in his programs.
He spent 21 years in the U. S. Air Force, retiring in 1991, and moved to the Asheville area in early 1992, specifically to study Biology at the University of North Carolina Asheville where, after the professors saw that he was willing to work at being a student, he was allowed to build his major into a study of the southern Appalachians – flora, fauna, geology, and weather. He was a featured speaker and walk leader for UNCA's Wildflower Pilgrimage for 20 years, a featured speaker at the Great Smoky Mountains National Park's Spring Wildflower Pilgrimage, led walks for the Cullowhee Native Plant Conference, and built the Cougar and Bobcat habitats at the WNC Nature Center in Asheville.
He developed the original Botany, Zoology, and Ecology curricula for the Blue Ridge Naturalist Program which is now offered at the NC Arboretum in Asheville – a program of which he is extremely proud, and for which he still teaches field Flora identification. In addition, he founded a small nature oriented company, Western North Carolina and leads walks here, in the mountains and, with his photography, does speaking programs for interested organizations.
Scott is a popular and in demand speaker, known for his photography as well as his informative and entertaining presentations. When not out in the woods with a group he can generally be found there with his wife, friends and his dogs.
We are proud at The Swag to have such a wonderful group of Experts-in-Residence, and we are grateful to have Scott join our line-up amongst all the other activities he's involved in. If you're looking to immerse yourself into the Great Smoky Mountains National Park, we hope you will consider coming to visit him at The Swag.
-David Colquitt