Watercolor Classes and Walks in the Woods
Earlier this month, Gay Bryant joined us at The Swag for a wonderful week of watercolor classes and hiking.  Gay is a painter and printmaker from Knoxville, Tennessee, and a great friend of The Swag.  (You can visit her website to see her own wonderful work!)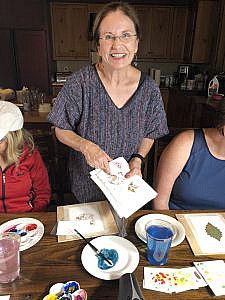 Each morning, Gay led a short hike, and each afternoon, she taught watercolor painting classes to guests of all experience levels.  Some of our guests that week were experienced painters, and some had not picked up a brush since elementary school.  Nevertheless, Gay brings the best out of each student with her kindness, encouragement, and knowledge of her craft.  I was able to spend several rainy afternoons around the table with Gay and the guests as we painted, visited, and relaxed.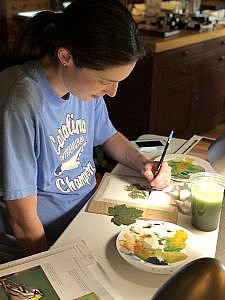 Gay has worked as a studio artist for the last 20 years and has a "deep appreciation of nature, architecture, and events of everyday life."  In addition to teaching at The Swag, she teaches at the John C Campbell Folk School in Brasstown, NC.  Her art has been featured in various exhibitions in North Carolina, Tennessee, and Georgia.
Every guest left the class with a matted painting–worthy of framing–and most of us were quite impressed by what we were able to accomplish with Gay's guidance. We hope you will join us!  Click here to book a room now or call us at 828-926-0430.
–Annie Colquitt