Steven Reinhold to Lead Hikes, Share Tales of Local Lore, and More at The Swag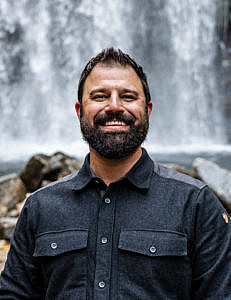 We are honored to have Steven Reinhold serve as an Expert-in-Residence at The Swag. Steven will lead hikes and enthusiastically share stories about the history of these hills and hollers while exploring the geography of the Great Smoky Mountains. Come join Steven to hike, hear the tales of local lore, and much, much more!
Steven grew up just down the road from The Swag in a childhood home with a view dominated by the Cataloochee Divide, upon which The Swag sits. The Cataloochee Divide served as a gateway to exploration while he was growing up, and the adventuring spirit stuck!
Since graduating from the University of South Carolina, where he played baseball, Steven has served as a wilderness mentor, climbed numerous mountains the world to raise money for charitable causes, led environmental efforts like the worldwide #trashtag cleanup, and he even found time to climb all 40 peaks in Southern Appalachia over 6,000 feet (the South Beyond 6000 Challenge). Steven founded The Appalachian Adventure Company in 2014 to share the stoke of adventure with his friends and family in North Carolina. The Appalachian Adventure Company offers custom day trips, backpacking trips, cabin concierge services, photography outings and workshops, Appalachian forest bathing and more.
We are blessed at The Swag with a wonderful group of Experts-in-Residence, and we are proud to have Steven in this wonderful line up and hope you will consider coming to visit him at The Swag.
-David Colquitt