Next time you come relax on the dogtrot, be sure to take a look inside the cooler, as we are proud to be offering new, complimentary drinks from the locally-owned Waynesville Soda Jerks.  As you take in the amazing mountain views at the "Most Romantic" Hideaway (per Andrew Harper), feel free to grab one, or two, or ten of these bottles and see why these handcraft artisan beverages are called "Southern Appalachia in a Bottle."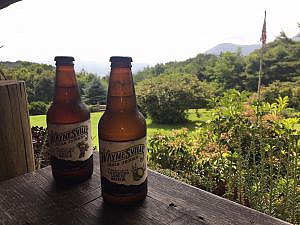 Founded in 2013 with a Farmer's Market Tent, the Waynesville Soda Jerks are a local, small business that does everything by hand:  processing the fruit, making the syrups, bottling the drinks, and labeling the bottles.   As detailed more fully on their website, "By utilizing local produce and an all-natural approach, we aim to have our product seen as a devilified treat."  And what a treat it is!
Waynesville Soda Jerks feature various seasonal offerings including Rasberry Cream, Classic Peach, Concord Grape, and–my personal favorite– Blueberry Basil Soda. Check out this YouTube video featuring the Waynesville Soda Jerks and their process:
"For us, the need that was not being met was the transparency within the carbonated soft drink industry.  So many people don't know what they're drinking or how it's made or where it came from.  And so for us, that need was going back to the connection.  Connection to the source:  Where did it actually come from?  Who made it?  How was it made?" -Waynesville Soda Jerks
As we strive to add new treats for our guest and as we look at where we source our food and beverages, we will continue to seek ways to highlight local farmers, local businesses, and — yes — local soda jerks!
For those of you looking for your favorite drinks from that now-not-so-small Atlanta soft drink company or a bottle of a IBC Root Beer, fear not.  We still have you covered.  But for those looking to try a little taste of Southern Appalachia,  book your room or call us to make a meal reservation, and come pop open a complimentary bottle (or seven) on the dogtrot while you enjoy our incomparable mountain views!
-David Colquitt