Retired Park Ranger Lynda Doucette
After retiring in 2018, Lynda found a place in the wonderful group of Experts-in-Residence at The Swag and we are so glad to have her. Esther Blakely was kind enough to make the connection for us, and we are pleased that Lynda will be sharing her immense knowledge and leading hikes (including night hikes!) at The Swag.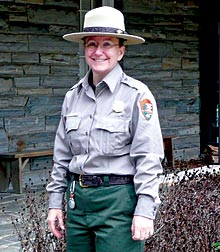 Originally from New England, Lynda enjoyed a 30-year long career with the National Park Service — working across the country — including Cape Cod National Seashore, the John F. Kennedy National Historic Site, Lake Mead National Recreation Area, Yosemite National Park, and Point Reyes National Seashore.
Lynda spent the last 16 years of her career as the Supervisory Park Ranger at the Oconaluftee Visitor Center in the Great Smoky Mountains National Park. As an interpretive ranger, Lynda focused on education and events that would help visitors appreciate all the Great Smoky Mountains National Park has to offer.
As Lynda shared in a published interview, "I love sharing the park with visitors. Even when I have to go to the headquarters building, just outside of Gatlinburg, I get to drive through the park. And I think, 'They're paying me to do this.' I want to make sure that the park is here for future generations."
We completely agree, and we hope you will join Lynda at The Swag! We are fortunate that she is willing to share her deep knowledge of these mountains, creatures and it's history with our guests. Call us at 828-926-0430 or book your room online here.
-David Colquitt