Meet The Swag Staff: Brenda Haney
We are pleased to introduce Brenda Haney, our Manager of Housekeeping at The Swag, the coziest mountaintop inn in the South. She leads an incredibly talented group of women and men on our housekeeping team.  She and her team are often referred to as "ninjas" because many guests never see them in action but always return to see the cleanest and coziest room imaginable.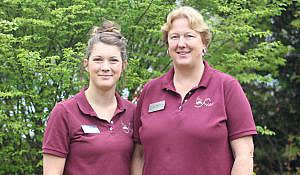 Brenda grew up in Asheville, North Carolina, where she had dreams of becoming a baton twirler.  (While I have no doubt she'd be a great twirler, we are glad that she ended up at The Swag!)  While not directly related to baton twirling, it recently came to my attention that Brenda is a world class clogger.  At the Matthews Family Reunion at The Swag in late June, Brenda showed off her great footwork!
After spending time in Central America (Panama) in the 1980's, she moved to Waynesville in 1991.  Brenda eventually settled just 5 minutes down the road from The Swag with her husband, Steve.  They have four children, one of whom–Shelby–we are lucky to have as part of The Swag family.  Brenda, or "Granny" as they call her, also has seven grandchildren. Brenda joined The Swag in 2009, after running a motel in the area and serving as a substitute teacher in Haywood County Schools.
A common phrase I have heard in prior jobs is "Speed of the Leader, Speed of the Team."  That holds true for Brenda and the housekeeping team.  Brenda sets the pace and will not let anyone outwork her…and she does it all with a smile!  And while she leads her group of "ninjas," it has been fun to see how many returning guests love to see and speak with Brenda.  We are lucky to have Brenda and we are lucky that she lives just down the road.  Some days she comes to handle and oversee room turnovers before returning home, only to come back later that night for turn down service.  Like I said, no one outworks Brenda!  We are grateful to have her as part of the Swag Team….Now we just need to convince her to show us some more clogging!
Come visit Brenda & her team of housekeeping ninjas at The Swag by reserving a room now at the coziest mountaintop inn in the South or by calling 828-926-0430.
-David Colquitt