Meet The Swag Staff: Kirsten Peters
We are pleased to introduce Kirsten Peters, an outstanding member of our Guest Services Team. Prior to her current role, Kisten led all of our dining services, with responsibilities for delivering exceptional guest service at breakfast, lunch, hors d'oeuvres, and dinner.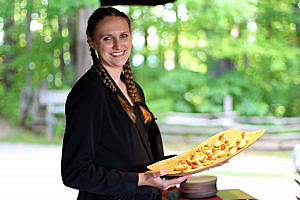 Kirsten, originally from Waynesville, was literally raised in our national parks.  Her step father is a park ranger and during her childhood, Kirsten spent time in Alaska (Wrangell St. Elias National Park and Glacier Bay National Park), Virginia (Shenandoah National Park), Missouri (Mark Twain National Forest), and–of course– in North Carolina in The Great Smoky Mountains National Park.
Kirsten is also part of Smoky Mountain History.  She and her parents were the last family to live in the Cataloochee Valley, as they lived in the Ranger Station located in the Valley.  The station has since been turned into a bunk house for park volunteers.
She has remained close to her "roots", working so close to the National Park. (The Swag shares one mile of border with The Great Smoky Mountains National Park, so if you cannot find enough hiking trails on our 250 acres, you have over 500,000 acres to choose from right out our front door!)
Kirsten delivers the highest levels of service and has a wonderful eye for detail  She does all of this while also raising two young boys!
Come visit Kirsten & Team at The Swag by reserving a room now or by calling 828-926-0430.
-David Colquitt