After a few weeks off, Meet The Swag Staff is back with a new episode, and we are pleased to introduce Jill Metterhausen, one of our amazing servers who started in 2014 with The Swag, the South's finest mountaintop inn, as a member of Guest Services.  Deener and Dan quickly saw Jill's talents and promoted her to be Director of Guest Services in 2015, a role she held for two season.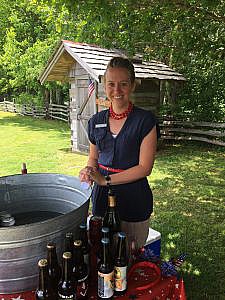 In 2017, Jill took the year off to spend time with her newborn son, Logan.  We were blessed, at the start of the season, to welcome Jill back to The Swag as a server, which allows her to spend more time with Logan and her husband, Eric.
Prior to joining The Swag, Jill was a full-time graphic designer.  She had a large number of clients, including the Biltmore.  She continues to do some free lance graphic design work, including for an organization that we love at The Swag:  Friends of the Smokies!
Jill Metterhausen Q&A
What is your favorite thing about working at The Swag?
Do I have to pick just one favorite? I suppose if I have to, I would say my favorite thing about working at The Swag is the guests. I love the excitement of first time visitors as they tour the property or see the food prepared for them. For returning guests, I love seeing their shoulders relax once they get here. And there's a good number of guests whom I've come to know throughout the years and I look forward to hugs from them and catching up upon their return. I love that they want to get to know us. I also can't leave out the staff, the ability to hike the trails, and the food!
What is your favorite room at The Swag?
Woodshed. It's so cute, charming, and cozy. My husband agrees!
What do you like to do in your free time?
My time these days is spent nearly entirely with my 16 month old son, Logan. This summer we are picking blackberries, gardening, and playing in sprinklers at the park. We love walking and being outside. If I have free time, I go stand-up paddle boarding and I love to cook. As Logan gets a little older, I'm trying to find time to read books again.
If you could travel anywhere in the world (excluding The Swag), where would you go?
I want to travel everywhere. But at the very top of my list is to go trekking to see the gorillas in Rwanda/Uganda, as well as to take a safari in Africa!
Like Chef Jake and Becky, Jill has strong Chicago ties.  She grew up there and married her high school sweetheart.  Eric is a pharmacist in the U.S. Public Health Service, and eight years ago, Jill and Eric left Chicago for Juneau, Alaska!  After 2 years spent in "The Last Frontier," the Metterhausens moved to Waynesville in 2012.
We are thrilled that Jill came back to The Swag this season, and we hope she stays for many more.  Her joy, kindness, and guest service is clear to all who see her.  Come visit Jill & Team at The Swag by reserving a room now and Jill will see you at breakfast with hot, fresh coffee ready to go!
-David Colquitt