Joel & Kathy Zachry Share Knowledge of The Great Smoky Mountains National Park
Swag Experts since 2013, the husband and wife team of Joel and Kathy Zachry share their
vast knowledge and experiences of our Great Smoky Mountains National Park.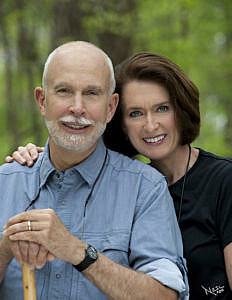 You may come to The Swag unaware that our Smokies has more than 100 species of trees, where most other parks can boast of only ten or twelve kinds, or that black bears don't really hibernate, growl, or fish, much. Taking inquisitive day hikes with the Zachrys you will learn many interesting things about the diversity of nature that abounds here.
Back at the Swag House before hors d'oeuvres you can join the Zachrys for informal presentations with fascinating "show and tell" items to learn of the park's cultural and historical attributes, the Smokies' plethora of interesting plants and amazing animals, or how to prepare and what to take for a safe hike. If the weather cooperates, one evening after dinner the Zachrys will likely travel down to the fire pit under a starry sky and hear your stories of adventures and share some of theirs. Everyone always seems to have a bear story of some sort and the Zachrys can certainly share their earlier blunders with encounters. It's always fun and the Swag can accommodate that special beverage desire for a relaxing time in front of the fire over s'mores!
Joel is a retired higher education administrator and field biologist while Kathy is a retired medical products executive and biomedical engineer. They have hiked and backpacked the Smokies for over 40 years together and completed the 2,175 miles of the Appalachian Trail in 2005. They managed the National Park Service and University of Tennessee award-winning Smoky Mountain Field School for six years and have continued to be instructors for over 40 of its years of existence. Joel wrote his first article for the Tennessee Conservationist Magazine in 1967, and continues to contribute, often using Kathy's skillful photography. Additionally, they led small
groups trips to remote regions of Alaska for over 25 years, wrote the book Bear's We've Met – Short Stories of Close Encounters, and are the owners and guides for Great Outdoors! Adventure Travel since 1999.
If you enjoy exploring new trails and making new friends or just learning about the uniqueness of our Smokies Park, join the Zachrys during their time here and the many amenities that The Swag has to offer. Book your room now!