Black Bears and Other Southern Appalachian Mammals with Michael Pelton & Tamra Willis
Did you know that there are 65 mammal species in The Great Smoky Mountains National Park?  The most famous, of course, is the black bear, but we also have elk, red and grey foxes, raccoons, river otters, raccoons, and more. We are extremely blessed to have the experts on southern Appalachian mammals, Dr. Michael Pelton and Dr. Tamra Willis, back at The Swag this season to serve as Experts-in-Residence.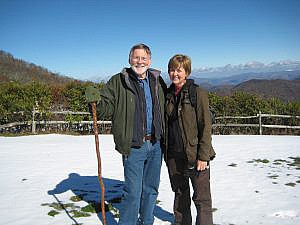 Michael Pelton, Emeritus Professor of Wildlife Science in the School of Natural Resources at the University of Tennessee, is the foremost expert on the black bear in the world. His research on black bears in the Smokies, among "the most ambitious ever undertaken in the eastern U.S., lasted 41 years to become the longest continuous study of any bear species conducted anywhere in the world."  Due to his research contributions, Mike was named by Smokies Life Magazine as one of 100 most influential people in the history of Great Smoky Mountains National Park. In addition to the Smokies study, Michael and his graduate students researched black bears in 12 other areas in the Southeast as well as brown bears in Spain and Asiatic black bears in Japan. He also consulted on numerous brown bear studies in Norway, Russia, France and Italy.
Michael has numerous academic achievements, including winning the Caesar Kleberg Award from The Wildlife Society. The award "is bestowed for a body of work in applied wildlife that responds to or has potential application to high-priority needs in wildlife management and conservation." The Wildlife Society declared, "[T]he sustained record of productivity on basic and applied research of Dr. Mike Pelton on common as well as high-profile species was carried out during his 40+year career. His widely published findings along with his relentless efforts to educate not only professionals but the public by forming collaborative partnerships and organizations, led to recovery and improved management of imperiled species, those in need of management, as well as more common species."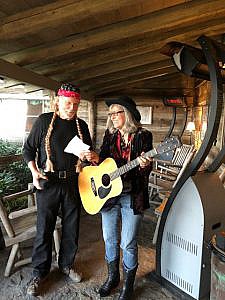 Tamra Willis, Michael's wife, is Emeritus Professor  of Education in Environment-Based Learning, a program designed for K-12 teachers and outdoor educators who use the natural environment to teach all subjects. Over her career, Tamra served as professor, elementary classroom teacher, science coordinator, and environmental educator.  Tamra's area of interest is nature-based learning with a particular love for 'unhuggables' such as snakes, bats, and insects. Michael and Tamra now live on a farm in Virginia.
Each morning, Michael and Tamra lead interested guests on one of the many beautiful hikes in the Great Smoky Mountains National Park or The Swag's 250-acre property. Each evening, Michael and Tamra lead discussions in The Swag House on the black bear and other mammals in the Great Smoky Mountains National Park.  Our son, Will, loves getting to sit in on these discussions.  Will recently asked, "So what does a grey fox actually do?"
We were lucky to have Michael and Tamra with us for our Halloween celebration.  Although their status as Experts-in-Residence disqualified them from taking home one of the prizes in the costume contest, Willie Nelson and Emmylou Harris would have been tough to beat otherwise!
If you love hiking or learning about the Great Smoky Mountains National Park, you will want to come spend time at The Swag with Michael and Tamra. Book your room now!
-David Colquitt