A romantic adventure at The Swag is like no other vacation you've ever experienced. Journey to our private mountaintop resort and you'll find incomparable Smoky Mountain views, an award-winning restaurant, pampering accommodations, world-class hiking trails, and warm hospitality.
Our secluded resort is located just outside of Waynesville, North Carolina (about 40 minutes west of Asheville).
Once you've arrived, there is little need to leave our 250 acre mountaintop hideaway until you depart. Your meals are provided. You'll find plenty to do — or enjoy doing nothing at all — on our spectacular grounds and in our common spaces. And, if you have a specific need, our wonderful staff will meet it.
Rest, relaxation, and rejuvenation are what The Swag is all about, so you don't have to do anything if you don't want to!  That said, there are many fun and interesting things to do in the surrounding area as well.
Expand your horizons with our guided hikes led by renowned authors and naturalists. Check out our Special Events Calendar.
Delight in garden fresh meals (comfort food with a twist)
Relax in our redwood sauna
Take a romantic stroll past our pond
Read, eat a picnic lunch, or just sit and think in one of five hideaways scattered throughout the property
Play racquetball on our regulation underground court
Hike in Great Smoky Mountains National Park or on our two-mile Nature Trail
Laze in a hammock that's built for two
Sit on our front porch and watch the hummingbirds
Play badminton on a court nestled in rhododendron
Play croquet while enjoying the fifty-mile view
Climb into the tree house for a romantic picnic lunch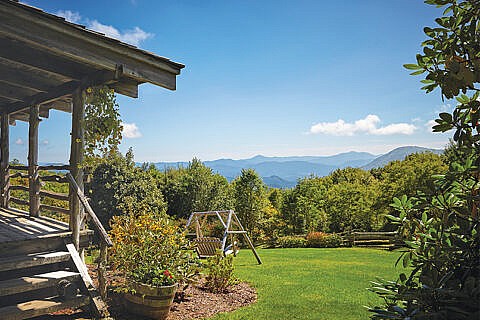 The Great Smoky Mountains National Park
The Great Smoky Mountains National Park shares an old split rail fence boundary with our inn that stretches more than a mile.
Walk out our front door and discover stunning views, secluded nooks in the woods, and numerous hikes — from simple strolls to challenging climbs on our 250-acre grounds and in the park itself.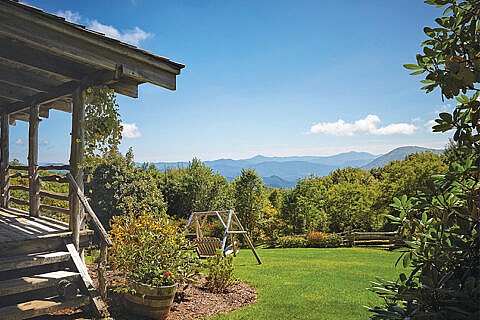 Spectacular Smoky Mountain Splendor
Sink into a hammock together – gazing out over four of North Carolina's six highest mountain ranges. Enjoy a picnic lunch on Gooseberry Knob. Play croquet, horse shoes, or badminton. Walk along moss-lined trails — underneath 20′ blooming rhododendron that span overhead like a cathedral ceiling.
Just How Close is the Park?
Throw a rock from our front door and you'll hit park property. (About 40 feet!)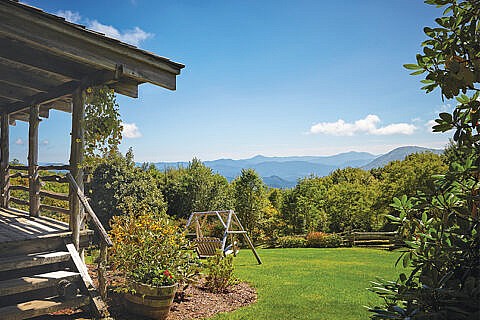 The Epitome of Rustic Luxury
Inside our rustic Swag House you'll discover quiet corners to curl up with a book, play a board game or cards, or chat with other guests.
Our Chestnut Lodge also offers numerous amenities including an impressive library, sauna, massage therapy room, weight room and racquetball court.
View our photo galleries to see more images.