During selected weeks throughout the season, The Swag provides unique guest speakers and other events of special interest.
Each program is optional and there is no additional charge for participation unless otherwise noted. These events are a memorable addition to any vacation in western North Carolina.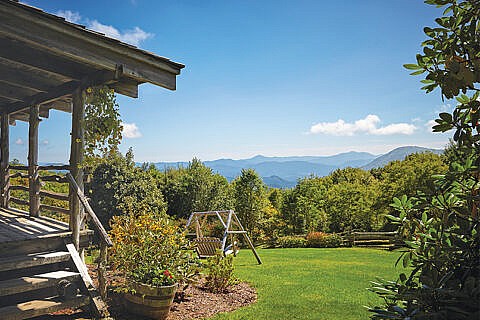 2020 Event Details
Please note that the first date listed below is when the event leader(s) arrive, and the second date is when they depart. Their activities for those days may not be scheduled due to their arrival/departure time.
Songs from the Hearth
Doug and Kathy Peters: June 18-24; September 20-27; November 17-22
Join singer/songwriter and Southern Appalachian Naturalist Doug Peters and his hiking partner and wife, Kathy, for an unforgettable experience at The Swag. Since 1986 Doug has delighted guests at The Swag with his original songs about life, love, and adventure. His unique lyrics capture the history, beauty, and special character of The Swag and the Smoky Mountains in ways that will both tickle your funny bone and tug at your heart strings. Join Doug and Kathy on the trails by day and by the fire at night.
Black Bears & "Unhuggables"
Michael Pelton & Tamra Willis: November 22-28
Since 1999, this popular husband and wife team has led daily hikes. Dr. Pelton is the foremost authority on the North American black bear. Dr. Willis has a Ph.D. in Science and Environmental Education, and she has a special love for the "unhuggables" (snakes, bats, and insects). At day's end, they will conduct a presentation on Southern Appalachian mammals such as black bear and bats, natural history and ecology.
The Swag's Cooking School
The Swag Executive Chef Jake Schmidt: September 28 & 29
Join us as our Executive Chef and The Swag culinary team lead informative cooking lessons to cover a range of foods. Classes will be informal and hands-on with plenty of opportunity to interact with Chef. All equipment will be provided, including a complimentary Swag Chef Apron to take home with you. There is no additional charge for Lodging Guests. If you are not staying with us you can still reserve a spot for $125 per person.
Smoky Mountain Nature
Charles Maynard: September 27-October 2
Outdoorsman, author, and storyteller Charles Maynard returns to The Swag for more fun than seems possible. Charles will lead hikes in the day and regale us with his fabulous storytelling each night. His newest book Blue Ridge – Ancient and Majestic is a must for mountain lovers. This is a wonderful event for those who seek to expand their knowledge of the Smokies.
Walks in the Woods
Esther Blakely: July 12-17; August 9-14
Esther has a thing about birds, wildlife, and wildflowers…and her enthusiasm is contagious! Her "Walks in the Woods" will have you laughing, crying, and thinking. Esther is a master naturalist, elk expert, and certified interpretative presenter for the National Park. Most of the year, you can find her leading hikes and eco-tours in Cataloochee Valley, representing her business, Cataloochee Valley Tours.
Explore and Enjoy
Joel and Kathy Zachry: July 5-12; September 6-11; October 18-23

Kathy and Joel Zachry have been leading small groups into the Smokies black bear habitat for 40 seasons as instructors and former directors of the University of Tennessee and National Park Service award-winning Smoky Mountain Field School. With more than 50 combined years of backcountry experience they have conducted group trips into the Alaskan wilderness beginning in 1988. Together they completed section-hiking the 2,175 miles of the famed Appalachian Trail in 2005. Join the authors of Bears We've Met – Short Stories of Close Encounters for their eighth season at the Swag on daily hikes and for evening presentations as they share their vast knowledge and experience on the culture, history, and both flora and fauna of our Smokies.
Walks – Painting – Printmaking
Gay Bryant and Rita Rothmeier: October 12-18
Artist and hikers, Gay Bryant and Rita Rothmeier, will lead Swag guests for morning hikes on various trails, sharing their knowledge of wildflowers, plants, and Smoky Mountain lore. In the afternoons, you can explore your creative side with beginning-level lessons in watercolor painting and relief printmaking to create original artwork that will document your stay at The Swag. Gay has been a studio painter, printmaker, and art instructor for 30 years and her work is represented in regional galleries and international collections. She has hiked all 900 miles of the official trails in the Smokies and creates work focusing on the natural beauty of the forests. Gay will be assisted by Rita Rothmeier, a naturalist, painter, printmaker, spinner, fiber artist, nurse, and outdoors enthusiast. Children must be at least 12 years old and under the supervision of an adult to participate in the art class.
Hikes, History & Local Lore
Steven Reinhold: August 19 – 23; October 23 – November 3; November 9-14

Growing up in the shadow of the Swag had a profound impact on Steven's life. The view from his childhood home was dominated by the Cataloochee Divide – home of the Swag. Every year of his youth, his family would cross over the Cataloochee Divide and host a family reunion down in Cataloochee Valley. For him, the Divide served as a gateway to exploration and he would get so excited when he would cross it because he knew it was time for an adventure! Flash forward to the present and he still feels the anticipation of adventure and a visceral excitement every time he approaches the Cataloochee Divide. He's hiked, climbed and snowboarded on many, many mountains. Steven has served as a wilderness mentor, volunteered abroad, climbed to raise money for charities, hiked around the globe, and even opened up his own guiding service – Appalachian Outdoor Company. When hiking with Steven you will learn the history of these hills, explore the geography of the Great Smoky Mountains and hear the tales of local lore and much, much more!
Birding & Traditional Folk Music
Ruth Barber & Keith Watson: August 5 – 9; August 14-19; September 2-6; September 15-18; October 2-5

Ruth and Keith are musicians and have been performing Old-Time traditional folk music in the Sevier and Knox County area for over 13 years ( www.boogertowngap.com). Keith is also a bird guide and leads tours for the Great Smoky Mountains Association, Ventures Birding Tours based in Asheville, NC.
Hikes & History
Lynda Doucette: June 24-28; July 28 – August 2; November 3-9

Lynda has spent the last decade-plus at the Supervisory Park Ranger at the Oconaluftee Visitor Center in the Great Smoky Mountains National Park. Her career with the National Park Service has taken her far and wide, including time spent at Cape Cod National Seashore, Yosemite National Park, and Point Reyes National Seashore. As an interpretive ranger, Lynda focused on education and events that would help visitors appreciate all that the Great Smoky Mountains National Park has to offer. Lynda will share her deep knowledge of these mountains, its creatures, and its history with our guests. She will lead day hikes, night hikes, and more!
Naturalist & Smokies 900-Miler
Nancy East: July 24-27; August 30 – September 2; November 14-17

Nancy leads hikes through a MeetUp group in the Smokies on a volunteer basis (as well as volunteer to teach "Backpacking 101" courses with another member of their search and rescue team). She is also a certified naturalist through U.T. and the Great Smoky Mtns. Institute at Tremont and is an avid hiker in the Park. She officially became a "Smokies 900-Miler" on Labor Day weekend 2019. She also writes frequently on her blog, Hope and Feather Travels, about outdoor education, naturalist topics, as well as her hikes both near and far. And finally, She is an ambassador for Gossamer Gear, a well-known brand in the backpacking and hiking industry, andshe does her best to represent them well as a hiker.
Scheduled Events for 2020
For more information regarding any special event, please call (828) 926-0430 or (800) 789-7672. Our off-season business hours are Monday – Friday, 9 a.m. to 4 p.m. Eastern Standard Time or you can email us.
June
June 18-24: Songs from the Hearth – Doug and Kathy Peters
June 24-28: Naturalist/Retired Park Ranger – Lynda Doucette
June 28 – July 5 TBD
July
July 4: Independence Day Celebration
July 5-12: Explore and Enjoy– Joel and Kathy Zachry
July 12-17: Naturalist/Elk Expert – Esther Blakely
July 19-24: TBD
July 24-July 27: Naturalist & Smokies 900-Miler – Nancy East
July 28-August 2: Naturalist/Retired Park Ranger – Lynda Doucette
August
August 5-9: Birding and Traditional Folk Music– Ruth Barber and Keith Watson
August 9-14: Naturalist/Elk Expert – Esther Blakely
August 14-19: Birding and Traditional Folk Music– Ruth Barber and Keith Watson
August 19-23: Hikes, History and Local Lore – Steven Reinhold
August 26-30: – Steve Kemp and Janet Rock
August 30-September 2: Naturalist & Smokies 900 Miler – Nancy East
September
September 2-6: Birding and Traditional Folk Music– Ruth Barber and Keith Watson
September 6: Labor Day Celebration
September 6-11: Explore and Enjoy – Joel and Kathy Zachry
September 11-15 TBD
September 15-18: Birding and Traditional Folk Music– Ruth Barber and Keith Watson
September 20-27: Songs from the Hearth – Doug and Kathy Peters
September 28 & 29 Swag Cooking School – Executive Chef Jake Schmidt
September 27 – October 2: Outdoorsman/Storyteller – Charles and Janice Maynard
October
October 2-5: Birding and Traditional Folk Music– Ruth Barber and Keith Watson
October 5-12: TBD
October 12-18: Watercolor Specialist – Gay Bryant and Rita Rothmeier
October 18-23: Explore and Enjoy – Joel and Kathy Zachry
October 23-November 3: Hikes, History and Local Lore – Steven Reinhold
October 31: Halloween Celebration

November
November 3-9: Naturalist/Retired Park Ranger – Lynda Doucette
November 9-14: Hikes, History and Local Lore – Steven Reinhold
November 14-17: Naturalist and Smokies 900 Miler – Nancy East
November 17-22: Songs from the Hearth – Doug and Kathy Peters
November 22-28: Black Bears & "Unhuggables" – Michael R. Pelton and Tamra L. Willis
November 26: Thanksgiving