Selected weeks throughout the season at The Swag provide unique things to do during your stay, featuring guest speakers and events of special interest.
Each program is optional and, unless noted, there is no additional charge for participation. Lightweight hiking shoes and binoculars are recommended for outdoor activities. These events are a memorable addition to any vacation in western North Carolina.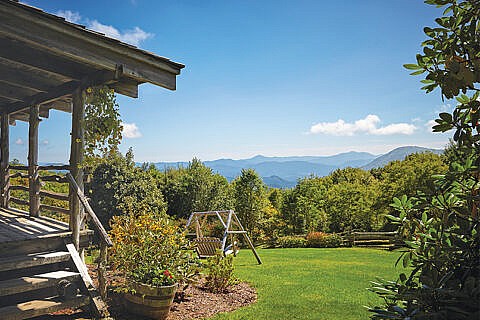 Event Details
Please note that the first date listed below is when the event leader(s) arrive, and the second date is when they depart. Their activities for those days may not be scheduled due to their arrival/departure time.
Songs from the Hearth
Doug Peters: April 30 – May 7, June 22 – 25, July 16 – 23, October 30 – November 5
Join singer/songwriter Doug Peters and his hiking partner and wife, Kathy, for an unforgettable experience at The Swag. Doug has authored and recorded "Songs of the Swag: Part Fact/Part Fiction" in CD and Song Book, and since 1986, has delighted guests at The Swag with his original songs about life, love, and adventure. According to Deener and Dan Matthews, "Doug's unique lyrics capture the history, beauty, and special character of The Swag and the Smoky Mountains in ways that will both tickle your funny bone and tug at your heart strings." Doug and Kathy are both passionate outdoor enthusiasts and have traveled extensively in pursuit of their love of backpacking, hiking, biking, and camping. Join them on the trails by day and by the fire at night.
Birding & Wildflowers
Bob Collier: May 7 – 12, July 2 – 7, September 3 – 8, October 1 – 6
Dr. Bob Collier – an avid birder for more than 25 years and nature columnist for his local weekly newspaper – will offer before-breakfast birding on the lawn, and either half or full-day nature hikes that feature birds and wildflowers, and interesting facts of local natural history of the Great Smokies. Bob and his wife Louise, have traveled extensively and have an outstanding series of slide presentations to share with us each afternoon at five. They have been with The Swag since 2002.
Black Bears & "Unhuggables"
Michael Pelton & Tamra Willis: May 29 – June 3, August 27 – September 1, November 19 – 25
Since 1999, this popular husband and wife team has led daily hikes. Dr. Pelton is the foremost authority on the North American black bear. Dr. Willis has a Ph.D. in Science and Environmental Education, and she has a special love for the "unhuggables" (snakes, bats, and insects). At day's end, they will present a PowerPoint presentation featuring Southern Appalachian mammals such as black bear and bats, natural history and ecology.
The Swag's Cooking School
The Swag Executive Chef: May 21 – 23, July 30 – August 1, November 12-14
Join us as our Executive Chef and The Swag culinary team lead four informative cooking lessons to cover a range of foods. Classes will be informal and hands-on with plenty of opportunity to interact with Chef. All equipment will be provided, including a complimentary Swag Chef Apron to take home with you. By popular demand, The Swag's Cooking School will be offered three times in 2017! There is no additional charge for Lodging Guests.
Walk and Talk
Donald Davis: May 22 – 29, August 6 – 14, October 8 – 15
Renowned storyteller Donald Davis hails from Western North Carolina. He is deeply knowledgeable of flora, fauna, and mountain folklore. Featured at festivals throughout the U.S. and the world, Davis is also known as a prolific author, producer of books and CDs, and as a guest host for NPR's Good Evening. He will take hikes and tell stories about the uniqueness of the place and the people who have lived in these mountains. Folks love their Dutch Oven cooking during the hors d'oeuvres time in the Dogtrot. Donald and his wife, Merle, have been a part of The Swag family since 2006.
Smoky Mountain Nature
Charles Maynard: May 15 – 19
Outdoorsman, author and storyteller Charles Maynard returns to The Swag for more fun than seems possible. Charles will lead hikes in the day and regale us with his fabulous storytelling each night. His newest book Blue Ridge – Ancient and Majestic, is a must for mountain lovers. This is a wonderful event for those who seek to expand their knowledge of the Smokies.
Walks in the Woods
Esther Blakely: April 23 – 28, July 23 – 28
Esther has a thing about birds.. and wildlife…and wildflowers…and her enthusiasm is contagious. Her walks in the woods will have you laughing, then crying, then pondering. Esther is a master naturalist, elk expert and certified interpretative presenter for the National Park. Most of the year, you can find her leading hikes and eco-tours in Cataloochee Valley, representing her business, Cataloochee Valley Tours.
Explore and Enjoy
Joel and Kathy Zachry: June 4 – 9, June 25 – 30, September 17 – 22, October 22-27
With more than 50 combined years of backcountry experience, Joel and Kathy Zachry joined The Swag as Special Event Leaders in 2013. Authors of Bears We've Met, they completed the 2,175 mile Appalachian Trail in 2005. The Zachrys are long-term instructors and the directors of the University of Tennessee/National Park Service Smoky Mountain Field School. This energetic couple will lead Swag guests on daily hikes, while sharing their outdoor knowledge and experiences. They will conduct evening presentations on the culture/history, wildlife, and vegetation of Western North Carolina and Great Smoky Mountains National Park.
Walks – Painting – Printmaking
Gay Bryant: June 11 – 18, July 8 – 16, August 14 – 20, September 24 – October 1, October 15 – 22
Artist and hiker, Gay Bryant, will lead Swag guests for morning hikes on various trails, sharing her knowledge of wildflowers, plants and Smoky Mountain lore. In the afternoons, you can explore your creative side with beginning-level lessons in watercolor painting and relief printmaking to create original paintings and take-home art that will document your stay at The Swag. Gay's experience includes having been a studio painter, printmaker, hiker and art instructor for the last 25 years and her work is represented in regional galleries and international collections. Gay has hiked all 900 miles of trails in the Smokies and enjoys creating work that focuses on the unique, natural beauty of the forests and diversity of plant life in the Smoky Mountains.
Storytelling
Bill Harley: Not scheduled for 2017
Bill Harley's imagination is as big as his talent for drawing lessons from commonplace events. One of the finest performers for families in the country, Harley has presented his original works throughout the U.S. He has authored several children's books. A Storytelling Circle of Excellence Award recipient, his 25 recordings have garnered numerous national awards, including his most recent, a Grammy. Bill and his wife, Deb, have been with us since 2007. After dinner, Bill will share one of his treasured bedtime stories.
Scheduled Events for 2017

For more information regarding any special event, please call (828) 926-0430 or (800) 789-7672. Our off-season business hours are Monday – Friday, 9 a.m. to 4 p.m. Eastern Standard Time or you can email us.
April
April 23-28: Walks in the Woods (Esther Blakely)
April 30-May 7: Songs from the Hearth (Doug Peters)
May
May 7-12: Birding and Wildflowers (Bob Collier)
May 15-19: Smoky Mountain Nature (Charles Maynard)
May 21-23: The Swag's Cooking School
May 22-29: Walk and Talk (Donald Davis)
May 29-June 3: Black Bears & "Unhuggables" (Michael R. Pelton & Tamra L. Willis)
June
June 4-9: Explore and Enjoy (Joel and Kathy Zachry)
June 11-18: Walks – Painting – Printmaking (Gay Bryant)
June 22-25: Songs from the Hearth (Doug Peters)
June 25-30: Explore and Enjoy (Joel and Kathy Zachry)
July
July 2-7: Birding and Wildflowers (Bob Collier)
July 8-16: Walks – Painting – Printmaking (Gay Bryant)
July 16-23: Songs from the Hearth (Doug Peters)
July 23-28: Walks in the Woods (Esther Blakely)
July 30-August 1: The Swag's Cooking School
August
August 6-14: Walk and Talk (Donald Davis)
August 14-20: Walks – Painting – Printmaking (Gay Bryant)
August 27-September 1: Black Bears & "Unhuggables" (Michael R. Pelton & Tamra L. Willis)
September
September 3-8: Birding and Wildflowers (Bob Collier)
September 17-22: Explore and Enjoy (Joel and Kathy Zachry)
September 24-October 1: Walks – Painting – Printmaking (Gay Bryant)
October
October 1-6: Birding and Wildflowers (Bob Collier)
October 8-15: Walk and Talk (Donald Davis)
October 15-22: Walks – Painting – Printmaking (Gay Bryant)
October 22-27: Explore and Enjoy (Joel and Kathy Zachry)
October 28-November 4: Songs from the Hearth (Doug Peters)
November
November 12-14: The Swag's Cooking School
November 19-25: Black Bears & "Unhuggables" (Michael R. Pelton & Tamra L. Willis)