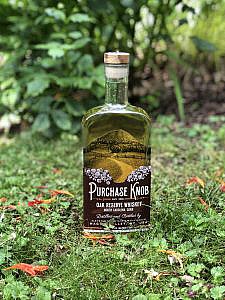 On July 12th, Elevated Mountain Distilling Company came up the mountain to share a taste of their locally-made whiskeys, vodkas, and moonshine with Swag guests at our Thursday night barbecue.  This part of the world has a very rich culture and long history of making spirits, and Elevated Mountain Distillery is continuing the tradition with modern methods–and doing it legally–at their distillery and tasting room in Maggie Valley.  They will be returning for our barbecue on August 30th and we hope that you will join us!
My personal favorite was the aged Purchase Knob Oak Reserve Whiskey.  The smooth flavor is easy to sip, and the bottle is so beautiful that you will want to put it on display.  Swag guests will recognize the name "Purchase Knob" as one of our most beautiful hiking destinations.
Elevated Mountain named this whiskey in honor of moonshiners like Popcorn Sutton, who lived and made his home brew in the mountains around The Swag.  In fact, you pass Popcorn's home place on the on Hemphill Road as you approach The Swag, and many of the neighbors can tell you stories about this legendary moonshiner.  "Colorful" is the most common descriptor that I've heard!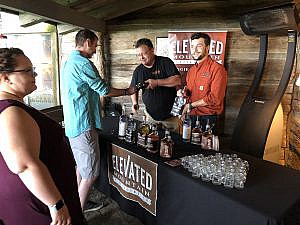 The Swag has some moonshine history of its own.  During The Swag's construction, three moonshine stills were found on the property, one of which was then-operational.  While we don't know whose stills they were, Dan Matthews always said that Popcorn Sutton was the best moonshiner around because he was using the best ingredient:  our crisp, cool Swag water!
Chef Jake and his team created some special barbecue sauces from Elevated Mountain's peach moonshine and root beer moonshine for the evening, which enhanced the flavors of the tasty and tender smoked pork loin and short ribs.
Barbecue night is every Thursday night at The Swag, and if you have not experienced the buffet piled high with smoked meats, classic sides, mashed potato bar, and inventive salads, consider booking your next stay over a Thursday night!  We also welcome dining guests who are not staying at The Swag, but you typically need to make those reservation far in advance as our seating is limited.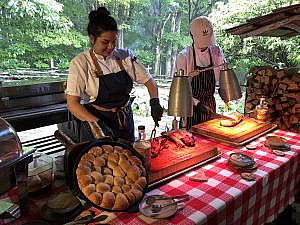 Whiskey connoisseurs cans pick up a bottle of Elevated Mountain's products at their tasting room in Maggie Valley or at local ABC stores.  Tours and tastings are available Monday though Saturday for those who want to learn more from the distillers about their methods and farm-to-bottle process.
The guys from Elevated Mountain will be back on August 30th for another tasting during our Thursday night barbecue.  Book a room online here, or call Guest Services to make a dining reservation for our Thursday Night barbecue at 828-926-0430.  We look forward to seeing you there!
-Annie Colquitt