The Swag is hosting three cooking schools this season, and Chef Jake Schmidt kicked off June with our first cooking school.  We were joined by guests whose cooking experiences ranged from "casual weekend cooks" to couples who plan their vacations all around the world specifically to participate in cooking schools.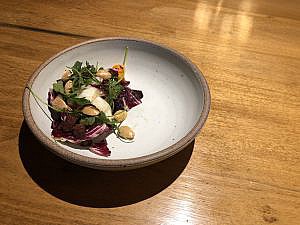 The first course was a session on basic knife skills.  Chef Jake taught us the proper way to hold a knife, basic knife maintenance, and techniques to chop onions, celery, potatoes, and mushrooms.  I learned that I have been holding knives incorrectly for years!  Thankfully, everyone in the class made it through with the same number of fingers we started with.
In the second session, we put our newfound knife skills to work as we composed a roasted squash salad with guanciale, marcona almonds, and apples.  The smell of guanciale sizzling in the pan drew several members of the guest services team out of the office to admire our work, but we didn't leave them many leftovers!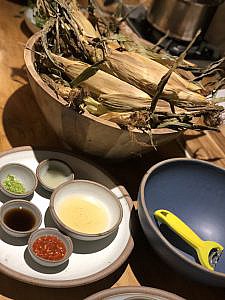 Session three of cooking school was particularly exciting because we worked with some flavors and tools that were new to many students.  Chef Jake taught us how to make roasted corn soup with spiced chicken and Pad Thai popcorn as a garnish.  He talked us through several variations on the recipe to turn up or down the spice, to make it vegan, or even just to put a different twist on the flavors.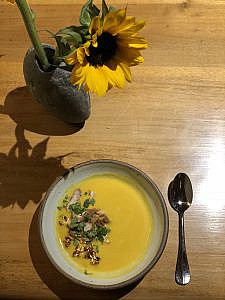 In the final session of cooking school, we learned how to brine and smoke meat using a basic grill.  Rather than use The Swag's large smoker, Chef Jake brought the simple Weber grill he has had at his home for years to demonstrate smoking meat on equipment that everyone probably has.  We made mouth-watering smoked pork chops with pickled blueberries and roasted broccoli.
Since the cooking school, I have successfully recreated many of the recipes at home nd heard from other guests who have as well! We all walked away with a book of recipes, an apron, and several new techniques. Chef Jake will be leading us in two more cooking schools this season: August 20-21 and November 12-13. We would love for you to join us!  Click here to book a room now!
-Annie Colquitt