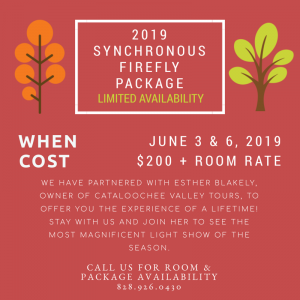 Annie and I are proud to be partnering with Cataloochee Valley Tours to offer an incredible experience to our guests.  On June 3 and June 6, Esther Blakely and the team at CVT will lead 12 guests each night to a secret location just outside of the National Park to witness the synchronous fireflies.
As a native Texan, I had no idea how big of a deal these synchronous fireflies were until I met Annie.  They are truly world-famous. On the Tennessee side of the Smoky Mountain National Park, visitors have to enter a lottery in the spring and are driven in by the busloads to witness these amazing creatures.  On the North Carolina side — as far as I can tell –, the only way to see this all natural light show is to go on one of Esther's private tours.  We are so glad that she has allowed us to partner with her organization to offer this private tour to our guests.  Thank you, Esther!
Following an outstanding dinner at The Swag, participating guests will depart at 8:30 PM for the secret location and return to The Swag at midnight.  In addition to seeing these wonderful creatures in a private setting, participants will receive treats for the late night excursion, a firefly-themed gift, and a copy of Fireflies, Glow-worms, and Lightning Bugs by Lynn Frierson Faust.  The cost for this is the standard room rate + $200.
Annie and I will be going on the tour and we hope you will join us!   For more information or to book a reservation for this tour, please call us at 828-926-0430.
-David Colquitt
While we have no video to show of Esther's secret location, the following news report from CBS details information, videos, and pictures about the synchronous fireflies.