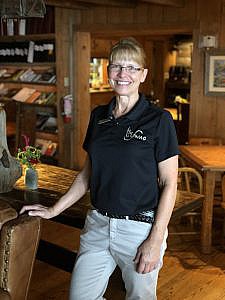 Meet The Swag Staff is back with Episode 12.  We are pleased to "stay in the dining room" and introduce you to another one of our incredible servers, Regina Donlin, who has deep Smoky Mountain ties going back over a century!  Regina is joining us for her second season at our award-winning mountaintop hideaway.  Before joining The Swag, Regina was a preschool teacher.
Regina Donlin Q&A
What is your favorite thing about working at The Swag?
My favorite things about The Swag would be the wonderful food and the outstanding views!
What is your favorite room at The Swag?
My favorite place to be at The Swag is not a room, but rather, is the front porch. The view is breathtaking!
What do you like to do in your free time?
In my free time, I enjoy spending time with my three children, baking, and visiting the coast of Georgia.
If you could travel anywhere in the world (excluding The Swag), where would you go?
If I could travel anywhere in the world, I would visit Ireland. It is something that my youngest daughter and I have wanted to do for a long time.
Regina has long family ties rooted in the Smoky Mountains.  Her grandfather, Cal Messer, was born on Tobe's Creek in the upper Cosby section of Tennessee in 1898.  Cal quickly became famous for his fiddle playing and in 1933 was playing for the Round Up at Cataloochee Ranch, which is The Swag's neighbor and site of Hemphill Bald.
Cal played at the Cataloochee Ranch from 1933-1971, and even played fiddle for King George VI and his family in Washington D.C., at a state dinner during FDR's administration
Cal and his band went on to make a movie called The Mountains of North Carolina, and we are so grateful that his grandaughter, Regina, is in the mountains of North Carolina delighting Swag Guests every day.
Regina does a wonderful job taking care of The Swag Guests every day and delivering exceptional guest service. We are lucky to have her!  Come visit Regina by reserving a room now or by calling 828-926-0430.  There is a warm cup of coffee waiting with your name on it!
Outside dining reservations may also be made for dinner, Sunday brunch, weekly lunches, and our famous Wednesday picnic at Gooseberry Knob.
-David Colquitt