We had a wonderful time marking America's 242nd birthday with guests from all over our great nation: Arizona, Alabama, Connecticut, Florida, Georgia, North Carolina, Pennsylvania, Tennessee, Texas, and South Carolina.  What a celebration it was!  The Swag Staff did a wonderful job decorating the property for the occasion, as you could hardly look in any direction without seeing Old Glory.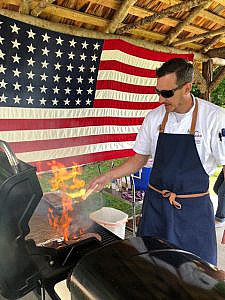 After a wonderful morning complete with the usual breakfast and hikes (led, this week, by our Event Leaders–the Colliers) we gathered, as we do every Wednesday, for a picnic on Gooseberry Knob.  The weather was glorious!
Chef Jake and Logan prepared the burgers, scallops, and hot dogs on the grills in front of a giant American flag.  In addition to the various sides, the picnic was made complete with the mouth-watering desserts prepared by Chef Linda.  (In fact, it was my first time trying Linda's famous banana pudding pie that was featured on the Food Network in 2017.  Let's just say it won't be the last time I try it!)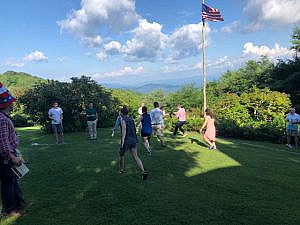 Later that afternoon, we gathered in the front lawn for games.  We had great participation from staff and guests in the Egg Toss, Sack Race, 3-Legged Race, and the Egg-in-Spoon Race.  We completed the games with a Staff versus Guest tug-of-war where both sides were competing for dinner.  Fortunately for the guests, they managed to eke out the victory!
Hors d'oueuvres were made all the better with a special appearance by the Hill Country Band performing their wonderful bluegrass music as they have done for the past 25 years at The Swag!
At 6:50, we gathered around the flag pole to share some stories of those who signed the Declaration of Independence, to sing patriotic songs ("God Bless America" and "America the Beautiful"), and to say the Prayer for the Nation that Rev. Dan Matthews has led in prior years.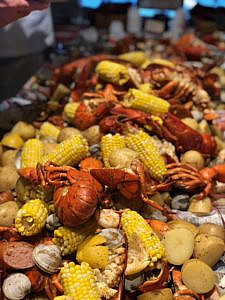 Then it was time for dinner…this year we had a High Country Boil.  (Fear not, it was not squirrels, salamanders, and chipmunks.)  We had lobster, clams, incredible salads, and of course Linda's famous American Flag cake.  It was my favorite meal of the season thus far!
Many gathered on the Front Lawn after dinner to view fireworks from Waynesville's Lake Junaluska in the distance.  We also had a few "small" fireworks and sparklers on the front lawn.  After much "user error" from yours truly, I was finally able to successfully "launch" a few of the fireworks.  Our four year-old son quickly asked that we cease with our fireworks display midway through the "show", which was a perfectly timed request because the big, classic fireworks had just started off in the distance.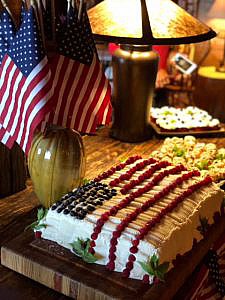 Although he did not get the "right date" in a letter to his wife, Abigail, John Adams famously wrote:
The Second Day of July 1776, will be the most memorable Epocha, in the History of America.  I am apt to believe that it will be celebrated, by succeeding Generations, as the great anniversary Festival.  It ought to be commemorated, as the Day of Deliverance by solemn Acts of Devotion to God Almighty.  It ought to be solemnized with Pomp and Parade, with Shows, Games, Sports, Guns, Bells, Bonfires and Illuminations from one End of this Continent to the other from this Time forward forever more.

You will think me transported with Enthusiasm but I am not.  I am well aware of the Toil and Blood and Treasure, that it will cost Us to maintain this Declaration, and support and defend these States.  Yet through all the Gloom I can see the Rays of ravishing Light and Glory.  I can see that the End is more than worth all the Means.  And that Posterity will triumph in that Day's Transaction, even although We should rue it, which I trust in God We shall not."
While we didn't solemnize this special day with all of the suggested items that the future-President Adams listed, we covered most!  It was a truly special way to celebrate our nation's Independence Day.  We are blessed and proud to be Americans, and we were blessed to celebrate "the great anniversary Festival" with such wonderful guests and staff.  We would love to see you at next year's celebration (or before).
-David Colquitt